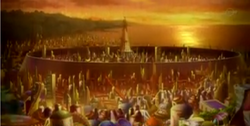 Earth, known as the Human World, is a planet created along the universe by Numeron Code. It is home humans and major battlefield for the Different-Dimension War. Unlike the Barian and Astral civilizations, Earth has no unified government, and instead has many different countries. Earth is the planet where the Numbers initially landed after Astral appearance in earth.
Series

Story Arcs
Events
Affiliates

Others
Ad blocker interference detected!
Wikia is a free-to-use site that makes money from advertising. We have a modified experience for viewers using ad blockers

Wikia is not accessible if you've made further modifications. Remove the custom ad blocker rule(s) and the page will load as expected.