Yu-Gi-Oh! D-Team ZEXAL
Genre
Action, Adventure, Comedy, Manga
TV anime
Director
Satoshi Kuwabara
Studio
Studio Gallopref name=scmtv-tokyo.co.jp Yu-Gi-Oh! ZEXAL staff, cast and music information</ref>
Licensor
Nelvana
Network
TV Tokyo
Original run

April 2012.

– ongoing
Episodes
59 as of June 11th, 2012
Succeeded by
Yu-Gi-Oh! D-Team ZEXAL is a spin-off manga written by Akihiro Tomonaga and illustrated by Wedge Holdings.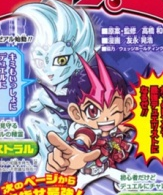 Yu-Gi-Oh! D-Team ZEXAL focuses on humor and all characters are drawn in a chibi style. It is also simplified text made for very young children and non-canon to anime and manga including Yuma knows Astral before the series began. Yuma and his friends create a Dueling Team and one day challenges Team Shark which changes his faith.
Series

Story Arcs
Events
Affiliates

Others